1 tag
1 tag
The State of State Science Standards
from Greg Laden (@gregladen) The vast majority of American public school students are proficient (sic) [probably meant deficient] in the level of science learning expected for their age group. The Thomas B. Fordham Institute has issued "The State of Science Standards 2012" as part of an effort to assess the causes of this dismal state of affairs. Read more…
Map of scientific collaboration between...
In the spirit of the well-circulated Facebook friendship map by Paul Butler, research analyst Olivier Beauchesne at Science-Metrix examines scientific collaboration around the world from 2005 to 2009: I was very impressed by the friendship map made by Facebook intern, Paul Buffer [sp] and I realized that I had access to a similar dataset. Instead of a database of friendship data, I had...
6 tags
Watch
New Animated Map of Earthquake Tweets Green dots are tweets about earthquakes. Gray dots are tweets about other topics. Each frame is one second (total of 12 minutes). Thanks to Natural Earthfor the land, water, and boundary shape data and the Twitter Streaming API for the tweet. Neat little graphic. If this isn't enough for you, like you really need to dig deep into the speed of seismic waves...
Heat Defines the Country in July
How hot was the month of July in 2011? So hot that just by plotting the location of each daily heat record that was broken, a nearly complete image of the contiguous United States is visible. Almost 9,000 daily records were broken or tied last month, including 2,755 highest maximum temperatures and 6,171 highest minimum temperatures (i.e., nighttime records). It should be noted that the...
Calling America: Phone Zones as Alternate States
When you think of it, borders are paradoxical. They connect what they aim to divide. A borderline marks, with guillotine-like precision, where two territories separate; but no matter how far they expand in either direction, those territories resemble each other closest at their common boundary. Borders can be impenetrable or irrelevant, and possess any degree of permeability in between:...
Interactive Map Compares States' Renewable Energy...
Sun, water, waves, wind… no this isn't the beginning to an episode of Captain Planet or a tour of power plants in Orbit City courtesy of George Jetson, but real sources of energy that are being harnessed and used to greater or lesser extent today. While it's true that we still heavily rely on fossil fuels, renewable energy is on the rise, now accounting for almost 10 percent of US...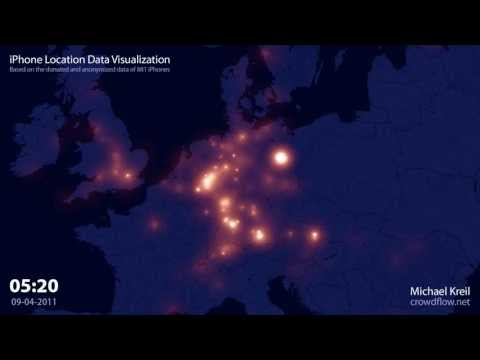 The Map of America As Seen by a New Yorker
New Yorkers have no sense of geography, which is fair, considering the world revolves around their city. As a New Yorker myself, I attempted to draw the map of the United States. As far as I know, it's 100% accurate.
What are people photo'ing and tweeting about? And...
Flickr and Twitter mapped together: Blue dots represent tweets with location and orange dots are Flickr photos. White dots are locations with both. Not surprisingly, you see a lot of white dots at city centers. That's an artifact of population density and Flickr and Twitter users. What's more interesting though are the areas outside of the city dominated by blue and orange. For...
Where in the World Are Google Plus Beta Testers?...
Late last week when Google Plus began opening up to more and more users, the leaders of the project said they were doing their best to include speakers of more than 40 different languages around the world. How geographically distributed were these first users? I thought I'd ask, on Google Plus itself, just where people were. Users posted their locations and a few short words of...
U.S. Average Annual Precipitation
Those of us who live west of the Cascade mountain range are not strangers to wet weather. While the Northwest as a whole gets a bum rap for being excessively rainy and dreary, the description is apt for the land between the Pacific coast and the Cascades. This region, incidentally, is where most of the large cities are, which is likely why members of the general public picture rain clouds...
We're definitely getting hotter.
From my recent post at The Intersection entitled, "New science from the NCDC makes it more difficult to communicate climate change": Dan Satterfield is a Certified Broadcast Meteorologist, which means he has a background in atmospheric physics.  This makes him a rare breed among meteorologists, a real scientist.  Dan writes on his blog at the AGU Blogosphere, that the country is...